Microsoft™ Exchange Server Backup
Our Host-IT OBM software fully supports the backup and restore of Microsoft™ Exchange data. All mailbox data is encrypted and stored on multiple redundant storage devices at our UK Data Centres. Exchange Server Backup is included in the normal monthly backup pricing, the additional Mailbox/Mail level backup is priced at just £1+VAT per month. The software supports Windows Server 2003, Windows Server 2008+ and Exchange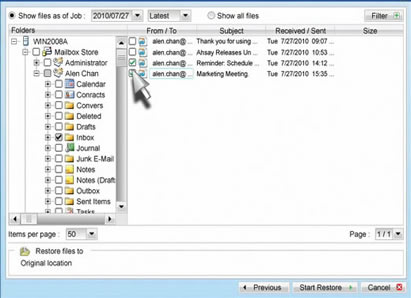 Exchange Server Backup (Disaster Recovery)
A 'full' exchange backup protects you from data loss in a disaster situation, enabling restore of all users, mailboxes, calendar entries and contacts. In conjunction with a standard 'system state' backup your mail server can be up and running again in a very short time.
Mailbox Level Backup (Accidental Deletion)
It is not always practical to restore an entire Exchange database. For example if a user accidentally deletes several emails or a folder from their Exchange mailbox account then a full restore would roll back all user data to a previous point in time. Host-IT OBM allows backup and restore on at the Exchange mailbox level, so mistakes can be corrected without affecting the workflow of other Exchange users.
Individual Mail Level Backup (Advanced)
For ultimate flexibility, individual emails can be restored from an Exchange mailbox.